For decades, vital signs have been used by healthcare professionals to assess a patient's overall health and identify potential medical issues. Traditionally, vital signs have included body temperature, heart rate, blood pressure, and respiratory rate. Recently, however, growing recognition of the importance of menstruation and its connection to overall health has led to the consideration of the menstrual cycle as the "fifth vital sign." This article will explore the significance of the female infradian hormonal cycle and its implications for women's health.
The Infradian Hormonal Cycle
The female infradian hormonal cycle, also known as the menstrual cycle, is a complex biological process that occurs in women of reproductive age, typically between puberty and menopause. The cycle spans approximately 28 days, although it can range from 21 to 35 days, and is regulated by the intricate interplay of hormones. The primary purpose of the menstrual cycle is to prepare the body for potential pregnancy, and it can be divided into four distinct phases: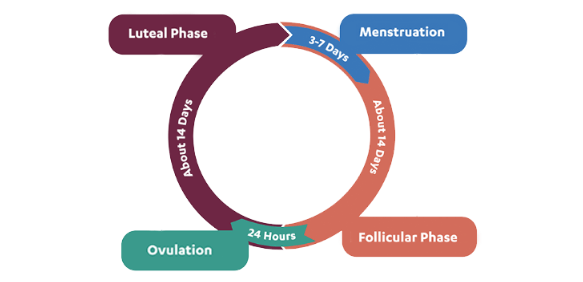 Menstrual Phase (3-7 Days): This phase begins on the first day of menstruation, when the uterine lining (endometrium) is shed due to a drop in hormone levels. This shedding is experienced as the bleeding that characterises a woman's period.
Follicular Phase (About 14 Days): During this phase, the pituitary gland secretes follicle-stimulating hormone (FSH), which stimulates the growth of several ovarian follicles. Each follicle contains an immature egg (oocyte). Simultaneously, oestrogen levels rise, preparing the uterine lining for a potential pregnancy.
Ovulation Phase (About 24 Hours): Around the midpoint of the cycle, a surge in luteinising hormone (LH) triggers the release of a mature egg from the dominant follicle in the ovary. This process is known as ovulation and marks the beginning of the egg's journey through the fallopian tube toward the uterus.
Luteal Phase (About 14 Days): After ovulation, the empty follicle becomes the corpus luteum, which secretes progesterone and oestrogen. These hormones help maintain the uterine lining, preparing it for potential implantation of a fertilised egg. If fertilisation does not occur, hormone levels drop, the corpus luteum disintegrates, and the menstrual phase begins again.
Understanding your cycle and making lifestyle decisions that align with your hormonal changes can be the difference between optimal health and feeling unwell. There are times within your cycle when you may need more rest, and other times when you may be better equipped to take on challenges that seemed insurmountable the week before. For example, during your menstrual and luteal phases, it's important to recognise that you may require more rest. Meanwhile, during your follicular phase, you might find it easier to push yourself harder when facing physical or mental challenges.
The Fallacy that Period Pain is Normal?
Many women's health experts like Alissa Vitti, a functional nutritionist, and Lara Briden, a naturopathic doctor, emphasise that severe period pain should not be considered a normal part of menstruation. These women's health experts advocate for a more proactive approach in addressing menstrual discomfort, suggesting that intense pain may be an indication of underlying health issues, such as hormonal imbalances, inflammation, or conditions like endometriosis and polycystic ovary syndrome (PCOS).

Vitti and Briden encourage women not to dismiss significant period pain as a normal experience but to consult healthcare professionals and explore lifestyle changes, including dietary modifications and stress reduction, to improve hormonal balance and overall reproductive health. By recognising and addressing period pain, women can take essential steps towards better understanding and managing their menstrual health.
Menstruation as the Fifth Vital Sign
The menstrual cycle's designation as the fifth vital sign emphasises its importance as an indicator of overall health. By monitoring your cycle, you can gain valuable insight into your hormonal balance, fertility, and overall wellbeing. Disruptions or irregularities in the menstrual cycle can signal underlying health issues, such as hormonal imbalances, polycystic ovary syndrome (PCOS), endometriosis, or thyroid disorders.
Hormonal Birth Control
Hormonal birth control, while effective in preventing pregnancy, can also have immense negative effects on a woman's menstrual cycle. These contraceptives, which include pills, patches, and injections, introduce synthetic hormones into the body to inhibit ovulation, alter the cervical mucus, and change the uterine lining. While some women experience lighter and more regular periods as a result, others may face a range of side effects.

It's important to note that the bleeding experienced during the "off" days or placebo pills is not considered a true period. This bleeding, known as withdrawal bleeding, is a response to the sudden drop in hormone levels that occurs when active hormonal contraceptives are paused or stopped. Unlike a natural menstrual period, withdrawal bleeding is not triggered by the shedding of the uterine lining following a natural hormonal cycle, as hormonal birth control suppresses ovulation and keeps the uterine lining relatively thin. Consequently, withdrawal bleeding is typically lighter and shorter in duration than a natural period.
Side effects can include breakthrough bleeding, irregular cycles, or even the absence of menstruation (amenorrhea). Moreover, hormonal birth control can mask underlying health issues, making it difficult for women to identify potential problems with their reproductive system. Additionally, some users report mood swings, weight gain, and decreased libido, which can impact overall wellbeing. It is essential for women considering hormonal contraceptives to discuss potential side effects with their healthcare provider and weigh the benefits against the risks to make an informed decision.
Menstrual Cycle and Lifestyle Factors
A woman's menstrual cycle can be affected by various factors, including stress, diet, exercise, and sleep. Understanding and addressing these influences can help improve cycle regularity and overall health. For instance, a balanced diet rich in essential nutrients can support hormonal balance, while regular physical activity can help reduce the severity of premenstrual symptoms.
Books For Hormonal Balance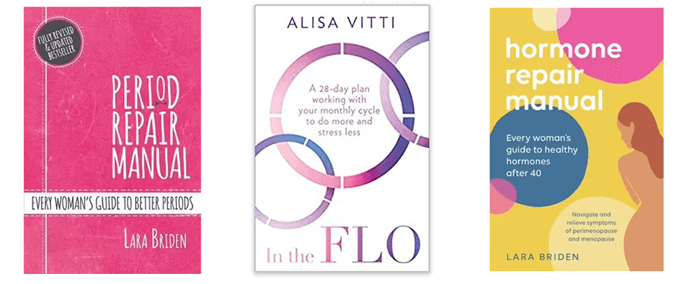 Period Repair Manual by Lara Briden is a comprehensive resource for addressing menstrual issues and promoting hormonal health. Briden covers various topics, from natural treatments for period pain to understanding and managing PCOS and endometriosis.
In the FLO by Alissa Vitti offers a guide to optimizing women's health by working with hormonal cycles. Vitti provides advice on diet, exercise, and lifestyle changes tailored to each phase of the menstrual cycle, promoting overall hormonal balance.
Hormone Repair Manual by Lara Briden focuses on women's health during perimenopause and menopause. Briden offers evidence-based strategies for managing hormonal changes, including dietary and lifestyle adjustments, to improve overall health and well-being.
________
Recognising the menstrual cycle as the fifth vital sign underscores its significance in women's health. The infradian hormonal cycle is a crucial biological process that provides insight into your overall well-being. By understanding and dialing into your cycle, you can make informed lifestyle decisions that promote your health and well-being, ultimately achieving better health outcomes.
*All content and media on foodhealing.com is created and published online for informational purposes only. It is not intended to be a substitute for professional medical advice and should not be relied on as health or personal advice.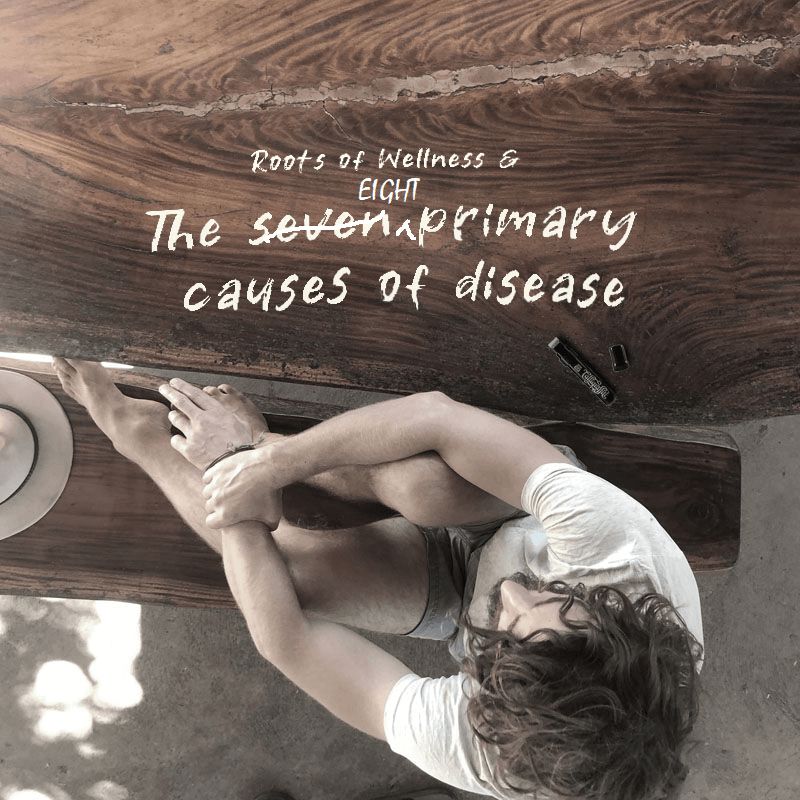 A reductionist approach to identify the root causes of all disease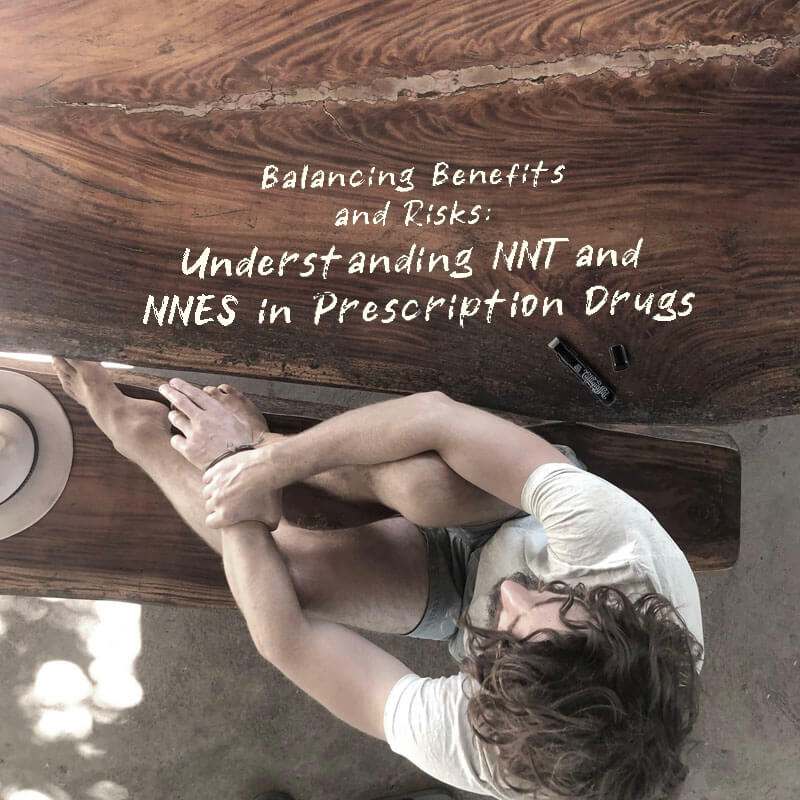 'Number Needed to Treat' (NNT) vs. Number Needed to Experience Side Effects (NNES)